Silver Service is your all-in-one transport solution in Australia. We offer various premium transport services for your needs, including cab services, chauffeur services, airport transfers, and parcel delivery services.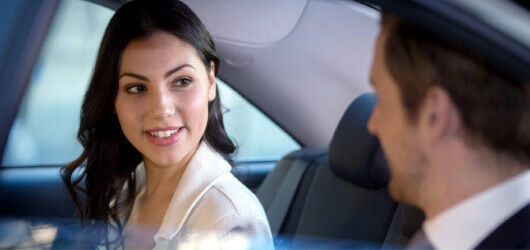 First-Class Taxi Rides
For your safety and peace of mind, our taxi Drivers are expertly trained and our taxis come with always-on security cameras. Plus, we regularly service and inspect our vehicles to ensure they meet the highest standards of quality and comfort.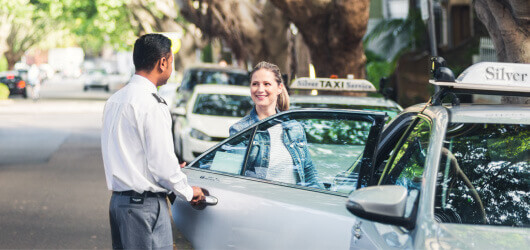 Chauffeur Services for Special Occasions
Elevate your travel experience with our chauffeur services. Feel like a VIP as you ride in luxury, complete with a professional Driver who understands the meaning of first-class service.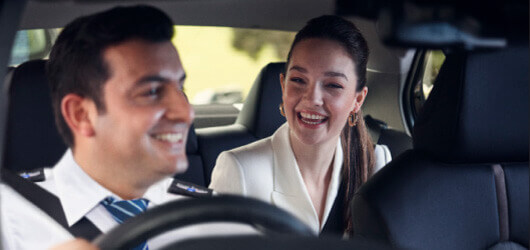 Airport Transfers Made Easy
Forget the stress of getting to and from the airport. With Silver Service, you can book your ride and track your taxi in real-time as it arrives to pick you up.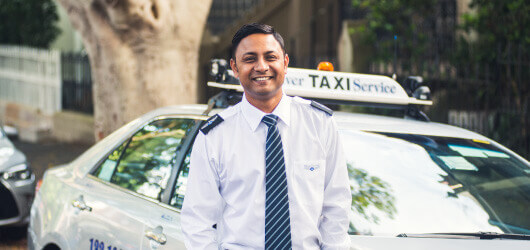 Parcel Delivery Services
For those times you need to send something across town, our efficient parcel delivery services have you covered. Our trusted Drivers will handle your items with care and make sure they arrive in perfect condition.
Why Should Silver Service Be Your Go-To Transport Option?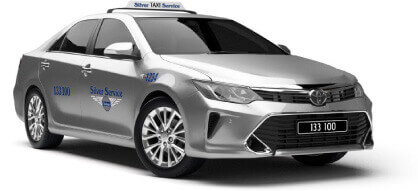 Here's why Silver Service is not your typical taxi company:
Tailor-Made Transport Experience
From your pickup address in our service areas, including major Australian cities like Sydney, Melbourne, and Brisbane, to any destination on your itinerary, our professional Drivers deliver a hassle-free transport experience. Whether you need a stylish airport taxi or even need to send a parcel across town, we've got it sorted.
Diverse Services for Different Needs
Need an airport transfer? We've got you. Require chauffeur services for a special occasion? Consider it done. Got a parcel that needs delivering? We handle that too. Our diverse vehicle types ensure that all your transport needs are catered to.
Easy Booking
With our user-friendly app, your next luxury ride is just a few taps away. Get a fare estimate, make a taxi booking, and manage your digital receipts effortlessly. No hidden surcharges or surge pricing, just transparent taxi fares.
How to Book Your Transport with Silver Service
Whether you're looking for an airport transfer, a chauffeur service, a reliable taxi, or even a parcel delivery, Silver Service has made the booking process simple and straightforward. We offer various booking methods to suit your specific needs. Here's how you can secure our premium services:
Get our top-notch services at your fingertips with the Silver Service App, available on both Google Play and the Apple Store. One tap on your smartphone, and you can book any of our services. The app also features real-time tracking and fare estimates for your convenience.
GET THE APP

Need a taxi, chauffeur service, or something else? Our online booking platform has you covered for both immediate and future transportation needs.
BOOK ONLINE

You can also call us at 133 100. Our customer support hotline is open 24/7 and always ready to assist you with your transport requirements.
CALL 133 100
Booking with the Silver Service App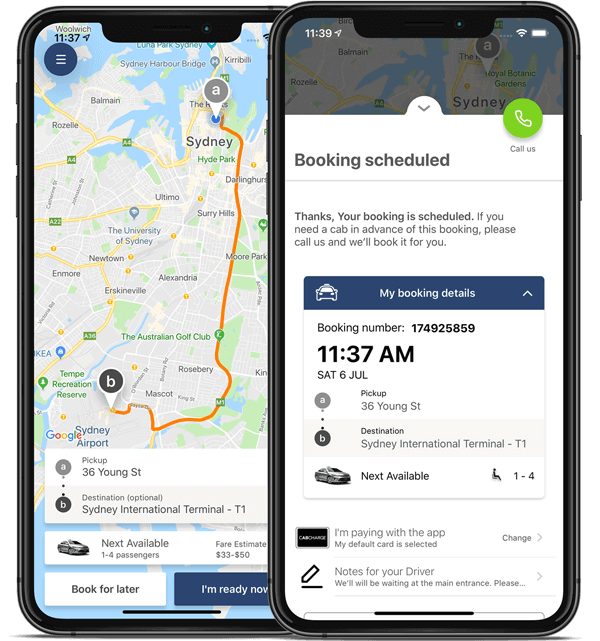 Enjoyed your ride and want to make it a regular experience? Use the 'MyDriver' feature to save the driver who knows just how you like to travel. Just head to the menu, click 'MyDriver,' then 'Add Driver,' and input their ID number.

Our Silver Service app offers a variety of quick and secure payment methods, including credit cards, debit cards, Apple Pay, and Google Pay. After every transaction, you'll get an immediate email receipt for your records.

Once your booking is confirmed, you can watch as your driver heads to your pickup address. This takes the guesswork out of your plans and makes your experience stress-free.
At Silver Service, what you see is what you get. Use our Fare Estimator tool on the Silver Service app for a transparent quote across all our services-no surge pricing or hidden fees. We also understand that plans change, so we don't charge late or cancellation fees.
Luxury comes standard at Silver Service. You'll be riding in top-of-the-line vehicles such as Mercedes and Lexus, each under three years old. Book your luxury ride via our app, online, or by phone.